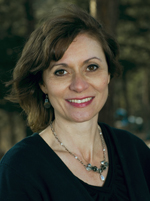 Jenna has over twelve years of therapeutic experience, having worked with Chiropractors, in a resort setting and privately. She currently practices in two offices - Aspen Park Chiropractic and Massage on Wed and Fri and in Littleton the rest of the week. She has successfully treated clients from children to seniors for pain relief, injury/surgery recovery including auto accidents, migraine prevention and relief, pregnancy support, stress and repetitive movement dysfunctions, knee issues, neuropathy, restless leg syndrome, trigger finger, carpal tunnel, tendonitis and more. She is not only willing to work with and bill for auto accident clients but actually enjoys the process of working through the stages of recovery. Jenna believes that you are and active participant in your healing process and partners with you for a complete therapeutic experience.
She uses Neuromuscular Therapy as a foundation, blending, based on your needs, Myofascial Release, Swedish, Deep Tissue, Trigger Point, Shiatsu, Trager Work, Cranial, Lymphatic Drainage and Reiki.
Jenna received her Massage Therapy Certification from the National Holistic Institute in Berkeley, California in 1992 and has completed trainings through the Upledger Institute. She also holds a Bachelor of Science in Human Development from the University of California, where she additionally completed most of a pre-med curriculum. In addition, Jenna completed certification to become a CSA, certified senior advisor. Her certification is not currently active, however, she is proud to have completed the challenging curriculum and testing to better understand how to meet the needs of seniors.
With a passion to grow as a therapist, Jenna continues to explore how to best help her clients on all levels. She values the therapist/client relationship and makes a point to get to know her clients on a personal level in order to create the most optimal environment for healing. Jenna believes that the best therapy takes place when the client feels safe, listened to and acts as a participant with the therapy process. She treats you as a partner in the massage therapy experience and encourages her clients to express their needs.
Jenna has lived in Colorado since 1993. She currently lives in Littleton with her husband, three children and two dogs.
Reviews

---
"I have seen Jenna for the last couple of years as a client. She is a gifted Massage Therapist. She helped me with some serious issues that were affecting my ability to work on my own patients. I highly recommed her to my patients, family and friends. She is professional and knowledgeable in many massage techniques. I enjoyed our working relationship when we shared the same office and now I am glad to say we are also friends that take care of each other. Jenna takes the time to get to know what her clients need at each session, and I think she fulfills those needs beautifully."
- Dr. Rebecca Noren, DC, Lakewood, Colorado
"When I first came to Jenna more than 3 years ago with my recently-strained back, she proceeded to give me the best massage I had ever experienced. Jenna's remarkable strength and various tequniques, coupled with her intuitive touch and years of experience, are blessed with and determined spirit that sincerely enjoys her clients' relaxation, progress and healing. I have continued to be massaged by Jenna regularly for general health maintenance and the occasional injuries of life, and I recommend her to anyone seeking bodywork."
- Scott Melvin, Buffalo Creek, Colorado
"Thanks so much for the blessing of your healing massage! The Lord truly uses you well with this gift He has given you."
- Lisa Welsh, Littleton, Colorado
"There really aren't the words to describe how your touch and work has and is continuing to help me heal. I can't find the words for my gratitude, Jenna, and still don't understand why I am so lucky."
- Katie Joe McDonough, Conifer, Colorado